ACCESSING YOUR MEZZANINE
Factory Mezzanine Floor solutions keep things simple and safe with suitable customisable staircase designs and safety rails with more elegant styles suitable that comply with safety standards and are easy to navigate.
Factory Mezzanine Floor are experts at fitting staircases and fire staircases into the existing structure of your business, including multi-level designs for taller warehouses or mid-landings for tighter office spaces.
Staircase solutions
Whatever the purpose of your mezzanine, it needs to be easily accessible from the ground. Our mezzanine stairs staircase solutions are as sturdy as the mezzanines themselves.
Safer than a ladder, our industrial staircases come complete with durable plain steel handrails, high grade industrial steel, tread for grip and high visibility elements.
Our staircases are a perfect accompaniment to both practical locations like warehouses and more aesthetic spaces like offices because of how tough and adaptable they are built these staircases are designed to sustain constant wear and tear, providing robust support over the long term.
To assist you in selecting the style that best meets your needs, we provide a variety of staircases with features customable designs, including industrial, mezzanine, custom handrail designs and fire stairs.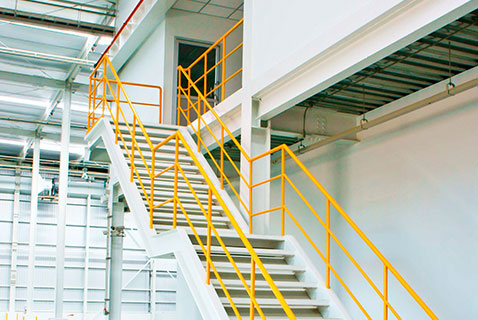 Mezzanine stairs
Are you ready to take it up a level?
Phone 1300 998 883 or enter your details for a prompt response.